Compliance
The Hankyu Hanshin Holdings Group aims to be a trusted and admired group of companies by meeting the expectations of all stakeholders. The Group believes that compliance-focused management is a prerequisite for achieving this goal.
1. Systematic Compliance Measures
The Company has established the post of Compliance Officer within the Personnel Office of the General Affairs Division as part of efforts to strengthen compliance on a Groupwide basis. To this end, the Company has implemented the following three core measures:
Issuance of Compliance Manual
In an effort to improve compliance awareness, the Compliance Manual makes it known to all of the Group's directors and employees that the Company will not tolerate any violation of laws and regulations or social norms, or betrayal of customer trust. Among other topics, the manual also presents examples of compliance issues that could easily happen.
Establishment of the Corporate Ethics Consultation Desk (Dedicated Internal Whistleblower Hotline Based on the Whistleblower Protection Act)
We have established a consultation desk that enables the directors and employees of the Group and its corporate business partners to consult and report on any suspected or known violations of laws, regulations and other rules, as well as unethical conduct in the course of day-to-day operations.
Other Measures
We are working to promote compliance on a Groupwide basis by setting up compliance promotion offices at major Group companies, as well as appointing compliance leaders at other companies.
swipe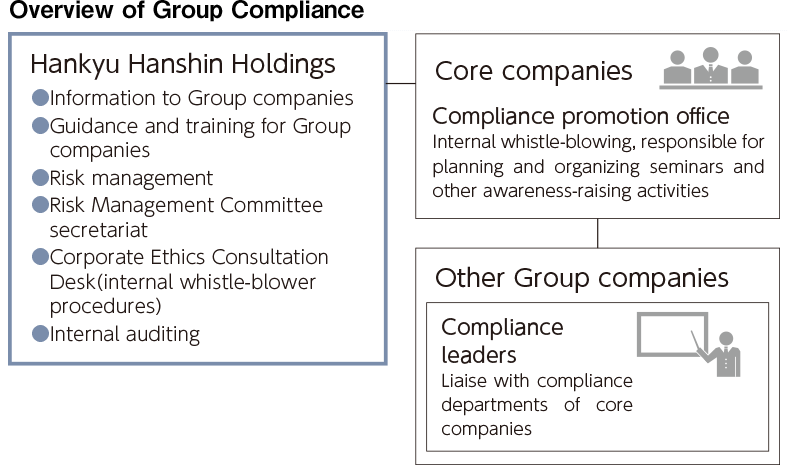 2. Compliance Promotion Activities for Directors and Employees
We are working to raise awareness of compliance among directors and employees through the following training seminars and communication activities:
Training sessions

Training sessions upon joining the company and promotion
Training sessions upon appointment as director or corporate auditor of affiliated companies
Group training sessions for compliance leaders at Group companies
Training sessions held on-site at Group companies

Communication activities

Publishing a series of articles on compliance in the Group newsletter
Providing information about examples of compliance issues, and the amendment and abolishment of laws and regulations through an e-mail newsletter on compliance
Providing information about compliance on the Company's intranet
3. Groupwide Internal Control through Internal Audits
The Group Auditing Division conducts internal audits of the Company in collaboration with the accounting auditors and others in an effort to enhance Groupwide internal control.